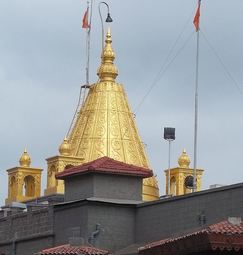 Shri Sai Baba Sansthan, Shirdi was established in the year 1922 to carry out the noble service of Shri Sai Baba. From the year 1922 to August of 1989 the establishment staff provided various facilities for the devotees. On May 4, 1990 Bhoomi Pujan of 'Sai Baba Bhakta Niwas' was performed. A building to accommodate 3500 devotees, having 560 self-contained rooms and two spacious halls has been constructed.
Shirdi occupies a place of pride among the spiritual destinations of Maharashtra. This little town in Ahmednagar district is home to the famous temple of Shri Sai Baba, which attracts devotees in lakhs, not only from the state but from across India and the world. Pilgrims belonging to all faiths throng here all the year round. It is located in Ahmednagar district of Maharashtra. It is also known as land of Sri Sai Baba. It is believed Sai Baba came to this village at the age of 16 to attend a wedding part and stayed there after.
Sai Baba is very famous saints in India and across the globe. He had no love for perishable things and his sole concern was self-realization. He taught a moral code of love, forgiveness, helping others, charity, contentment, inner peace, and devotion to God and guru. Sai Baba''s teachings combined elements of Hinduism and Islam. After the reign of Sai Baba a beautiful shrine was built over the Samadhi of Baba in 1922 to carry out the service of Shri Sai Baba. After which there is an incredible increase in the number of devotes visiting Shirdi year on year.
Mandir Programme Schedule
Bhupali
4:15 AM
Kakad Aarti
4:30 AM
Holy Bath
After Kakad Aarti
Satyanarayan Pooja
8:00 AM & 10:30 AM
Abhishek
7:00 AM, 9:00 AM & 12:30 PM
Mid-day Aarti
12:00 Noon
Evening Aarti
Sunset Time
Bhajan, Kirtan & Vocal Music
8:30 PM to 10:00 PM
Shej Aarti
10:30 PM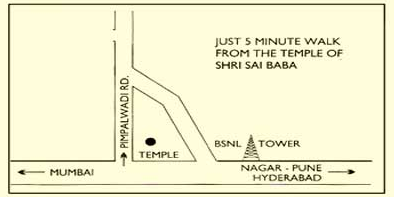 Roads from Shirdi
Kopergaon Rly. stn. 20km.
Manmad Rly. Stn. 65km.
Nashik City 90km.
Nashik Road Rly Stn. 80km.
Nagarsol Rly. Stn. 45km.
Shani Dev 72km.
Aurangabad 130km.
Sainagar Shirdi Rly Stn. 4km.
Pune 210km.
Trimbakeshwar 130km.